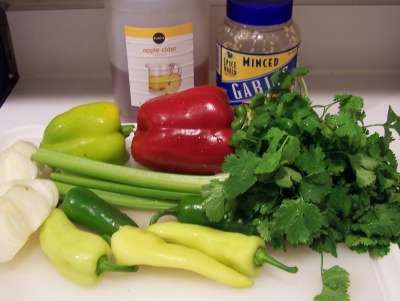 Some people may think of salsa as a condiment, but in my home it is a culinary staple. Salsa makes so many things tastier, and at the same time, adds valuable antioxidants and vitamins to your diet since it is made with fresh fruits and vegetables. So if you try the following fresh garden recipes, don't limit yourself to scooping up your salsa with tortilla chips. Try it on top of white fish, baked chicken, scrambled eggs, grilled cheese, baked potatoes, or stirred into pasta. Fresh salsa made from vegetables, fruits, and herbs from your summer garden is delicious on just about anything!
The following recipes may be modified however you would like in order to suit your own preferences. If you are not an onion person, simply omit it and add in something else with a flavor you enjoy, such as some avocado, red bell pepper, or poblano peppers.
One of the unique things about this first garden salsa recipe is that it actually does not contain any tomatoes, which is rather unusual for salsa. Instead, its flavors are made up of the summer treats of strawberry and mango, along with my favorite type of sweet pepper, the Jimmy Nardello's pepper. I also love pulling the fresh cilantro right out of my herb garden. It is so flavorful and fragrant. You can make this salsa and eat it right away, or you can refrigerate it for up to 8 hours before serving it.
Strawberry Mango Salsa
Ingredients:
-1 and ½ cups of strawberries, stemmed and diced
-½ cup of diced mango
-½ cup of diced Jimmy Nardello's pepper
-1/3 cup of diced red onion
-¼ cup of roughly chopped cilantro
-2 tablespoons of lime juice
-1 tablespoon of sugar
-½ teaspoon of salt
Directions:
In a large bowl, gently stir all of the ingredients together. Avoid stirring roughly or chopping the fruit in a food processor, as this will cause it to either bruise or puree. To get a good, chunky texture, just chop all the ingredients with a kitchen knife. You can store this for up to about 3 days in a sealed container in a refrigerator. If you're feeling bold, you can also stir in a teaspoon or two of tequila.
Canned Tomato Salsa
Canning your own salsa is an excellent way to preserve and enjoy the tomatoes from your summer garden. Especially if you experience a tomato glut, this is a terrific way to use them. They key to successful canning is not necessarily the ingredients, it is the equipment and methodology. You should not alter the amounts of acid (lemon juice) or the ratio of tomatoes, as this may affect preservation. However, you can adjust the seasonings to suit your preferences. Always make sure to sanitize and seal your jars well. This will ensure that your salsa is well preserved and may be stored for a long period of time. You can then enjoy your fresh garden tomatoes even in the dead of winter.
This recipe makes one jar of salsa- a standard pint size Ball jar. You can adjust the recipe as you wish to make 3 jars, 4 jars, or even 10 jars!
Ingredients:
-2 pounds of fresh tomatoes (normally about 6). I prefer to use Druzba tomatoes, which are sweet and tart, and also high in acid so therefore good for canning
-1/3 cup chopped red or white onion
-¼ teaspoon of minced garlic
-2 tablespoons of diced celery
-4 tablespoons of lemon juice
-1 tablespoon of chopped fresh oregano
-1 tablespoon of chopped fresh cilantro
-2 tablespoons of diced Jimmy Nardello's peppers, or other mild yellow pepper such as Banana peppers or Golden Treasure peppers
-1 small diced jalapeño pepper, seeds removed (tip: wear rubber gloves while dicing)
-¼ teaspoon of ground black pepper
-3 ounces of tomato paste
-1 pinch of chili powder
Equipment:
-1 water bath canner- a very large pot used for sanitizing the salsa jar after you fill it. You will need this only if you are making more than one jar. Without using a water bath, canned salsa can keep in the fridge for 4-6 weeks. If you plan to store jars long-term, you will need a water bath canner.
-1 pint size glass Ball jar and lid with ring (note that because of the special gummy rubber ring on the lid, it may be used for canning only once)
-1 jar grabber (that kind of looks like forceps) to lift the hot jar out of the boiling water
-1 jar funnel
-1 large spoon and/or ladle
-1 slotted spoon
-1 colander
-1 large bowl of ice water
-1 kitchen knife
Directions:
1. Place your jar in the dishwasher and set it to the "sanitize" cycle. Place your jar lid and ring in a pot of boiling water on your stovetop. Allow them to boil for 7-10 minutes. Make sure that your lids, rings, and jars are clean and free of soap.
2. Bring another large pot of water to boil on your stovetop. Place your tomatoes in the boiling water for 30-45 seconds in order to loosen their skins. Remove the tomatoes from the boiling water and place them in the bowl of ice water with the slotted spoon. This will allow you to very easily slip the tomato skins right off of the flesh.
3. Remove the tomatoes from the ice water, and cut each one in half crosswise. Give each one a gentle squeeze to remove the excess water and as many seeds as you can. Use your fingers or a spoon to gently scoop out the seeds.
4. Place the tomato flesh in a colander and let it drain for a few minutes to help remove the remaining excess moisture. If you would like, you can also gently squeeze them through a piece of cheesecloth. Then remove the tomatoes from the colander and dice them into ½ inch chunks.
5. Place your chopped tomatoes in a pot on the stovetop and add in all of the other ingredients listed above. Bring everything to a gentle simmer. Do not bring it all the way up to a rolling boil. Taste the salsa as it simmers, and adjust the seasonings to your taste.
6. Once the salsa has reached a simmer, it is time to fill your jar. Place the funnel atop your open jar, and ladle in the salsa. Stop when you've reached ¼ inch below the lip of the jar. Remove the funnel, and place your lid atop the jar. Screw on the ring and make a tight seal.
7. If you have made only one jar, you can place this right in your fridge and consume it within 4-6 weeks. If you have made multiple jars, you will want to move on to the next step so that you can store your salsa long-term.
8. Place your jars of salsa in your water bath canner and cover them with water. There should be at least 1-2 inches of water over top of them. Bring the water to a boil. Allow them to boil steadily for 15 minutes, or if you live in high altitude, boil them for 20 minutes.
9. Lift the jars out of the water using your jar grabber. Place them in a spot where they can rest and cool undisturbed and without a draft overnight. The following day, they will be ready to store or refrigerate. Check to make sure each lid is properly sealed and does not pop up when you poke it before storing it.
Reference:
1. The Best Fresh Tomato Salsa Recipe – Allrecipes.com
2. Fresh Homemade Salsa Recipe – Allrecipes.com